IF YOU WANTED to have insightful conversations and a merry great time, you sought the company of Simon Kagugube Muwanga Seguya (known simply as "Simon Kagugube"), an accomplished corporate executive, a great listener and very brilliant but down to earth man who entered eternal life on Saturday, February 15, 2020.
Download a print version, The Book of Dr Simon Kagugube (184 downloads)
Early life
Simon was born on January 7, 1956, at Albert Cook Hospital Mengo, Kampala. He is survived by 10 children – three boys and seven girls –Samantha, Susana, William, Sean, Solome, Chiara, Francesco, Sanyu, Mulungi, and Malaika and an extended family of relatives, friends and many people across all walks of life whom he supported both directly and indirectly given his position as a top executive at several private and public companies in Uganda and the region at large.
Dr. Kagugube was an epitome of success in terms of academic achievements, career excellence, and community impact. He is a testimony that it does not matter where you start or come from, but where you aim that makes the difference. In early 1962, Simon's Dad went to London, UK, to study Hotel Management and Hospitality.
A year later, his wife (Simon's mother) also left for London to study Nursing. The young Simon was taken to live with his maternal grandparents, in Kilyagonja, present-day Kanyanya.
He excelled naturally.
I first met Dr. Simon Kagugube, then acting Managing Director, Centenary Bank, in 2009 at his office on Entebbe Road just opposite Metropole House, for a one-on-one interview about "The Future of Banking", an article that appeared in the Summit Business Magazine, August 2009 edition.
If you want to become a great journalist, you invest more in networking – the ability to access the movers and shakers in your playing field. My friend Dr. Samuel Sejjaaka, arranged the interview for me. Thereafter, I would freely call Dr. Simon Kagugube for guidance and further introductions.
He always received or returned my calls. Over the years, I learned from him that leadership is more about listening, ascertaining facts swiftly, and knowing where the other party is coming from before you act.
Simon, the leader
Dr. Kagugube was good at asking questions and listening. He had a rare gift of making his light shine through others – the true essence of leadership – empowering his team to achieve their potential. Of all companies he served, Centenary Rural Development Bank had a special place in his heart and will forever remain part of his legacy.
In November 2001, he was appointed Chairman of the bank's Board of Directors, a role he served until April 2002. A few months later, in January 2003, he became the bank's Executive Director, a position he held till his passing in February 2020.
In-between, he worked as the bank's undertaker, taking up roles only he had to execute to keep the bank sound. He served as Centenary Bank's acting Managing Director twice, the first term ran from January to June 2006, and the second from June 2009 to 31st July 2010.
Everyone I contacted at the bank for this tribute, had a great appreciation and fond memories of Dr. Kagugube (whom most staff referred to as Mr. Mapeera Building), for his effort in the construction of the bank's headquarters. Fabian Kasi, the Bank's CEO, said the following about the late:
"Good people die every day. Yet not all of them affirm for us the goodness in humanity and leadership the way Dr. Kagugube did. He has signed out and left a legacy of positive experiences for anyone who took the time to know him – which was not a hard thing to do. To some of us, he was a colleague for 10 years and a friend for a lifetime.

Besides work, there is no person like this legend of mine with whom we shared our morning days, no greeting like his welcome, no homage like his praise. The bottom line is that he was a great leader. And when you pulled back the curtain of all that entails, you could also see that he was also good a person who cared about others.

This man intentionally built the kind of relationships in the communities he worked that would bring people together and along. Because he was so good at relationship building, things got done in the least way expected.

Dr. Kagugube taught us – to live each day and take it as a blessing; to hold the tears when we want to cry because all we have are memories; to learn that life can be taken in the blink of an eye and only heaven knows when a person will say "Goodbye"; that we don't live forever… our legacy does; that credibility comes from results, everything else is just marketing; we are sure to get opportunities as we show ourselves capable of being reliable which is a precondition of trust; and that you can demand courtesy but you have to earn respect.

We pledge to uphold the values that Dr. Kagugube has been espousing. You have left an echo whispering down our ways. May your soul rest in eternal peace amongst fellow angels my friend."
Dr. Simon Kagugube (L), with friends – Paul Musoke (Second left), Dr. Kasekende (Second right), and Mrs. Harriet Musoke (right) in 1997 at a party.
A well-read man
Dr. Simon Kagugube was a trailblazer.
He attended Namilyango Junior Primary School from 1963 to 1969, where he wrote the Uganda Primary Leaving Examinations (PLE) and emerged the best in East Africa, at the time of the EAC joint examinations.
Thanks to his academic excellence, Dr. Kagugube studied on scholarships from then on.
He joined St. Mary's College Kisubi (SMACK) for Ordinary level where he emerged as one of the best in Uganda and was profiled in the national newspapers at the time.
He continued at SMACK where he completed Advanced level, excelled, and joined Makerere University (MAK) to study law (Bachelor of Laws (LL. B)) on government sponsorship from July 1976 to October 1979. In November 1980, he attained the Diploma in Legal Practice, a Graduate Bar Course, from the Law Development Centre and was admitted to the Uganda Bar as an Advocate of the High Court of Uganda on 13th July 1982.
Throughout at MAK, Simon was an exceptional student, always emerging among the top. As is a practice at Makerere, he was retained to teach the Law of Business Association and Tort as a part-time Teaching Assistant, Graduate Fellow, Faculty of Law from July 1981 to July 1984.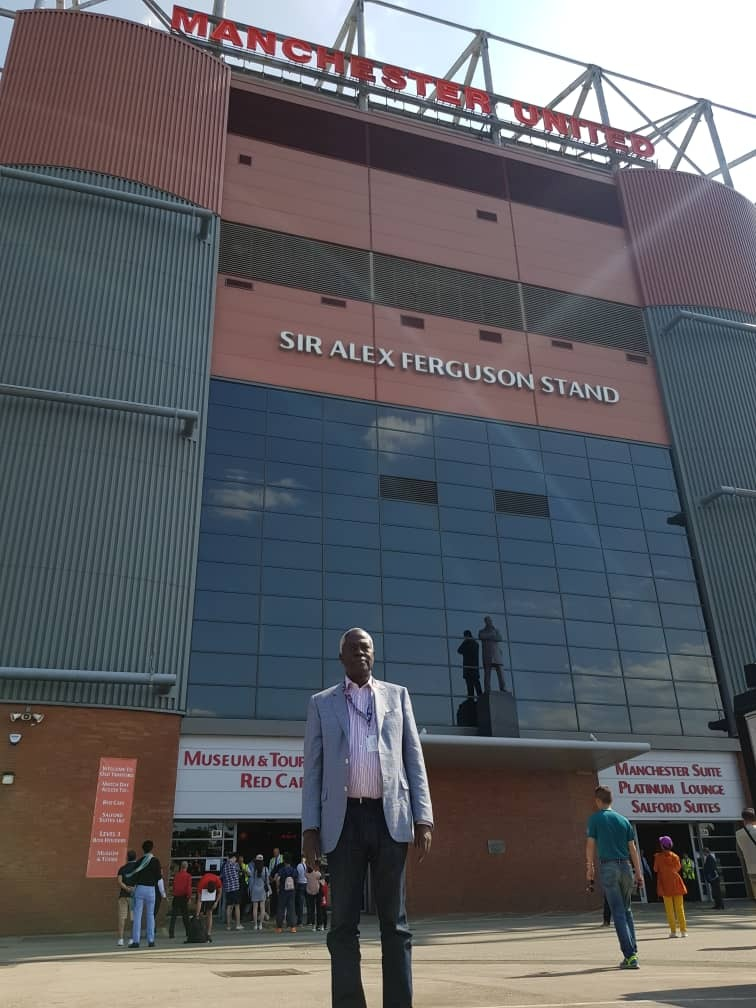 While at MAK, he applied and won a scholarship to study at Yale Law School as a Fulbright scholar. He traveled with his family, and while there was blessed with two boys, William, and Sean.
In September 1984, he started studies at Yale Law School, first doing a Master of Laws degree (majoring in corporate law, taxation, and international trade systems), and later embarked on Research and Dissertation writing for the Doctor of the Science of Law (J.S.D.), completing in September 1988.
In November 1988, he completed the Post-Doctoral Research in International Humanitarian Law and received the coveted Yale law Ph.D. majoring in International Refugee Protection and the Movement of Persons across International Borders. He did not stop there. In 1995, he enrolled at the University of BATH, United Kingdom, Center for Fiscal Studies for a Certificate in Public Finance. This was after successfully attaining a Commonwealth Tax Inspectorate certificate from Inland Revenue Training Centre, Leeds, UK.
Dr. Simon Kagugube was a man of integrity who believed in speaking through results not just action but results of the action.  And his rich career is a testimony.
He started humble and grew through the ranks, thanks to his credo, "credibility comes from results, everything else is just marketing."  After his first degree, he worked with Njuba & Co. Advocates as a Legal Clerk under Mr. Sam K. Njuba from March 1979 to July 1980.
He then moved to The Co-operative Bank Ltd, Kampala as Assistant Corporation Secretary (Legal) from November 1980 to 1981. From 1982 to July 1984, he served as Company Secretary and Operations Manager, Lifeline Uganda Ltd.
Between 1990 and 1994, he served in several capacities including Personal Assistant to the Chairman, Uganda Manufacturers Association (UMA), Member Board of Governors, Kololo Senior Secondary School, Member of the Executive Committee, UMA, and Director Finance, Ship Toothbrush Factory Ltd, now Nice House of Plastics.
In October 1995, he joined Uganda Revenue Authority as Deputy Commissioner, Internal Revenue Department, a role he played with distinction and was promoted to Commissioner for Value Added Tax Department in July 1997, doubling as Chairman VAT Commissioner's Forum.
In February 2000, he was appointed Deputy Commissioner General, Uganda Revenue Authority a role he declined as plans to join the private sector with PricewaterhouseCoopers (PwC) were in advanced stages, following his successful end of the Commissioner for Value Added Tax contract.  He worked at PwC from July 2000 to 15th January 2003, as Director Tax and Legal Services.
Dr. Kagugube was a regular in so many corporate boardrooms. In his illustrious career, he served as Member, Executive Committee, East African Business Council; Member Board of Governors, St. Raphael of St. Francis Hospital, Nsambya; Chairman Board of Directors, Micro-Finance Support Centre Limited Uganda; and Chairman Board of Directors, Centenary Rural Development Bank (November 2001 to April 2002).
At the time of his passing, he was Director, Centenary Bank Ltd (a role he occupied since January 2003), Director, Nation Media Group (since September 2011), Chairman, Monitor Publications Ltd (since August 2011), Director, Meridian Airlines and Chairman Board of Directors, Uganda Revenue Authority (since July 2016).
A jolly good fellow
Dr. Kagugube was a jolly good fellow with a gift of many great friends.
Some of his close friends I spoke with are; Francis Kamulegeya, Eng. Lubowa and Paul Musoke.  The latter met Dr. Simon Kagugube about 40 years ago at St Mary's College Kisubi (SMACK).
Theirs was a friendship of great minds thinking alike and attracting each other. Simon set the pace; Paul followed closely behind. Simon went to SMACK in 1970, Paul joined him there in 1971.
Both were outliers in their respective classes and disciplines. They became friends. And never looked back. This obituary would not be complete without a conversation with one of his friends.
Below is what Paul Musoke had to say.
"Dr. Simon Kagugube was a very, very brilliant, and hardworking Ugandan citizen.
He demonstrated academic excellence at SMACK. At Makerere University, where he studied Law as I did Economics, he always came on top. At Yale University, he demonstrated academic firepower and returned with a Ph.D. He was always an A student throughout his studies. At Yale University, he was Editor, Yale Journal of International Law from 1984 to 1985.
At SMACK I was privileged to share with him the famous Cubicle A on the HSC Block.  In those years, the best brains at SMACK lived in Cubicle A. I offered Sciences while he offered Arts. He was one year ahead of me. I was familiar with how he was excelling. He graduated in 1979. I graduated in March 1980.  I left for the US in 1981 to Boston, Massachusetts, for my Master's degree, the same year he enrolled at Yale University in the State of Connecticut, New Haven city.  We used to visit each other over the weekends. After our studies, we returned to Uganda to contribute to our country's national development.
In the late 1990s, Simon and I were both in very senior executive management positions in Uganda corporate world. He was at Uganda Revenue Authority. Where he rose through the ranks, to acting Commissioner. A position he left to join PwC, and later went Centenary Bank – he was a man always looking for challenges and projects for maximum community impact. At the time, I was the Managing Director of Pride Microfinance. After joining Centenary Bank, he told me, "I now have an opportunity to promote financial inclusion, reach many people, and improve household incomes" – a reason he always wanted a local Ugandan bank that was free of majority external investors.
I am happy to have known him. Ours was a relationship spanning over 40 years.
I have lost a great friend. Uganda has lost a great son of the soil. A man of impeccable integrity. An intelligent man. At SMACK, when I joined Senior one in 1971, I easily noticed him. Simon was very outspoken. I believe he was prefect of Kiwanuka house. I was a member of that house. He was very vocal, in a positive sense. Standing up for the rights of students. Defending them, fighting for justice, no wonder he pursued law and attained the highest qualification, a Ph.D. He was involved in a lot of extracurricular reading – novels and those odd books in school libraries many students never open. Participating in the debating society of SMACK. He was interested in speaking out and no wonder he was a student leader. If you went to SMACK, you would find in Simon's file, records of academic excellence. When you go to schools like SMACK, some students stand out. He was such a personality that stood out, just like me. I was the captain of the football club. He oversaw the debating club.
Simon had the rare ability to interact with people at all levels regardless of class or rank. A great listener, he was the kind of person who would articulate his ideas very clearly. In the usual daily life, he was the kind of person who would stop by the roadside and talk to the house builders or road workers. The ability to get out of your top role as Board Chairman of URA, stand by the roadside to talk to low-end casual laborers was special. Going to an entertainment party and grabbing a microphone and singing for the audience. He was one of a kind.
He played key roles at his Church, St. Charles Lwanga, Ntinda. He was an elder at the Church. On a personal level, when I was getting married on December 27th, 1997, Dr. Kagugube was the Master of Ceremonies.
We shared many special moments. He was in Connecticut when I was in Massachusetts – these states are close. He was a confidant and friend. We usually hold an annual SMACK bash – where we invite all Old Boys of SMACK for our years and hold a year-end party, hosted at a home of one of the Old Boys on a rotational basis. On 28th December 2019, we had our annual SMACK bash, and it was in Mpigi town on Masaka Road, hosted by Mr. Peter Ssebanakitta. That was the very last bash for SMACK that we attended with the late Simon. At this bash, I shared a stage and sang live with Dr. Kagugube. We performed a special song that went viral.
His lasting impact was his contributions to the banking sector. Simon played a key role in Centenary Bank for many years. Through that bank, he contributed to the overall growth of the financial sector. He also held Senior Management roles at URA. This is the institution that collects taxes on behalf of the government. The success of Uganda's economy is heavily dependent on URA. Being the board chairman of URA, he contributed tremendously to the success of our economy.
The ladies man
Dr. Kagugube had great women in his life.
He particularly loved giving equal opportunities to brilliant and hardworking women. Like any child, he loved his mother, Solome Nakayenga Katesigwa Kagugube (RIP), who shaped him into a man.  Dr. Kagugube is survived by many sisters, daughters, nieces, and friends.
He met Eve Kagugube while teaching part-time at Makerere University (MAK) in the early 1980s and got blessed with their firstborn, Samantha, followed by Susana. When he got the opportunity to study law at Yale University, he traveled with his family, and while there got blessed with two more children, William and Sean. However, he returned to Uganda alone in the early 1990s as the wife stayed behind in the US. It is during that time he met miss Jennifer Bitarabeho, whom they had studied together at the MAK law school in 1976, moved on, and started a relationship that was blessed with one child, Solome. Later in 1998, at Uganda Revenue Authority social sports function, he met Allen Nagawa and once more, moved on with a new relationship that was blessed with five children – Chiara, Francesco, Sanyu, and Mulungi and Malaika.
Jennifer Makonzi
One of the women, Jennifer Makonzi, a sister, had the following to say about his late brother:
"The first thing I recall about my brother Simon was his high intellect in the family that none of us had. He was very intelligent throughout his education right from Nursery up to the time he acquired the highest level of education (Ph.D.) from Yale University in America.
Simon was a responsible man with a big heart which accommodated many people of different characters. He would comfortably relate with the young and old. Many people shared their troubles and challenges with him. He would listen first and then give solutions.
He was generous in terms of money and would help you according to your needs. He helped many people acquire jobs in different institutions – as long as they qualified for the job. As our elder brother, he loved and supported us a lot. He would encourage and give us positive vibes about life. You see, we lost our parents at a young age.
Starting with his immediate family, siblings, relatives, and friends, they all have the same testimony of generosity. He was kind-hearted and wished others well. Simon was a social animal who loved music, dancing, and beer. He would create a reason to gather people by throwing a party just to get together to dine and wine.
My brother found it easy to mix and associate with everybody – young or old. He often advised the young ones about life choices. At one time, while speaking at a graduation party at one of his cousins, William Ssekabembe, he said "…never, ever underrate people who are not graduates. 'Tobayitanga bagwagwa.' Many people have reasons why they did not go to school. You have acquired knowledge through education. But many such people are blessed with common sense.
His big heart led him to work with Priests, specifically in the Catholic Church. He used to pray at St. Charles Lwanga Church and supported the projects of the Church. He touched so many people's hearts and reached out to improve the lives of others. He was a pillar in the family. He would reach out to all other family members and try to keep it together. We shall forever miss you, Simon. Thank you so much for everything. Fare thee well my dear brother.
Oh, Simon was a great brother. He educated the children of his house workers, and some of them have graduated. He would just come and visit my home without advance notice. He was very good at encouraging people. He believed in possibilities. If he found you doing a project, he would encourage you to continue.  He often told us about the characters of men. He often advised us as girls, never to allow situations where a man beats or abuses you as it could affect your life and you lose your confidence.
A week before Simon died, he visited me at home on a Saturday. He gave me some money. He was impressed with what I was doing. A week later, he fell sick. Then after the operation, he regained consciousness and started his jokes. He said '…… my heart is very expensive. It costs the US $10,000'. Later, I realized that the pacemaker which had been implanted in his heart cost that money." Unfortunately, it could not handle his great heart."
Allen Nagawa
Allen Nagawa, another special woman in Dr. Kagugube's life shared the following memories about the late.
"Dr. Kagugube was larger than life. He was so full of life. Very wise. Quite tough, if he wanted to be. And very generous. He was so huge, especially in his heart and wisdom.
His colleagues at work often said when they had challenges, they would go to Dr. Kagugube who would provide practical answers.   I learned a lot of lessons from Dr. Kagugube: Responsibility. If you accept to do something, make sure you complete it. Never leave projects unfinished. Love. He cared and loved almost everyone he met – a builder or a Hajj, he would care. If he knew you and you asked for his help, he always helped to the extent he could.
Integrity. He had impeccable integrity. Never cutting corners. In his roles, he often received offers of shoddy deals with promises of big payoffs. He always rejected them. He carried his head high. He would come and tell me that so and so, wants to do a big deal. But then he would say, it is not worth it. Let them go and bribe another person.
He was a very proud man. Annoyingly proud. The fact is he was very well educated.
He loved large verandahs, sitting outside and relaxing. And then discussing with his children, reading newspapers, and watching CNN. He was a very big fan of sports. His children are very big in swimming. He always sponsored most of the swimming competitions. Every time there was a swimming gala, he was always there. He also loved farming. Always going for farming in the village.
He loved dancing to the Afrigo Band. That is when he would come to life. He loved a lot the song "Sikulimba, olimujja wa omusajja asinga nze", loosely translated to mean: "No lies. Where would you get a man better than I."
He appreciated a well-groomed and decent girl child. He appreciated women executives that deserved promotion. He believed they were more competent. He knew when you get a real professional one, you have got a real deal.
He loved eating matooke and ox-tail meat. He had a family history of cows. He ate a lot of fish. He loved his whiskey. He made sure he bought the most expensive whiskey that tasted different. He always looked out for the rare and special brands. He never focused on small things – if it made him happy.
He was smart. That is the only word that came up. Smart and honest to a fault. He would never talk behind someone's back. He would come to you and even things up.
He traveled all over the world. He did not go to Iceland and West Africa. He traveled. He went everywhere. He loved seeing places. One time he asked me, '… would you love to go to Georgia?' I thought it was in America, I went, then I found it was so cold. He loved traveling and seeing new places.
He loved Manchester United, a lot and completely. Once, on a trip to London, he had to find some time and paid a visit to Sir Alex Ferguson. He went to Manchester and was lucky, to find the team in a training session. And then He happened to meet Alex Ferguson. I am lucky that I had accompanied him on that trip.
He also loved the Old Boys' association for St. Mary's Kisubi. He was of the SMACK 70's group. And he loved it so much, he was Chairman of SMACKOBA, around 2010.
I will miss him dearly. A very special man."
Jennifer Kagugube
Jennifer Kagugube, too, had great memories of the late. She was kind enough to share some of the memories below:
"Simon was a good man. A good husband. When you examined the decisions he took, you realized he considered others before making decisions".

"Maybe sometimes I could say, he would be insensitive to some family emotions. I think the polygamous family background he was brought up in, took out some sensitivities concerning family relations. For example, if he thought he had provided for the family, he would not think about maybe being present at home".

"He told me he first saw me during a social function. At the time there were social events schools used to organize. He was in St. Mary's Kisubi. I was in Gayaza. We were in the same year. We had attended the same school function. As fate would have it, we joined law school in the same year, 1976. Over the years, we got to know each other. Then he traveled out for studies. As I continued with my life. When he returned, we met, and in 1995, started a relationship".

"He had a great smile. Full of fun. He was magnetic. When you were with him, you felt relaxed and loved. He was a gentleman who would give you attention. I always felt comfortable and secure around him. He loved dancing, which I love too. Any woman would have loved such a great man".

"He spent a lot of time at home chatting. And recently, he had started watching a lot of CNN and American politics. He was well informed. And loved discussing social issues and new developments.

He was social and had great friends. And all our relatives on both sides were our family friends. Some of his best friends were Francis Kamulegeya, Aloysius Lubowa, Mubiru Kalenge, and FX Kitaka. We would visit these people's families often with him and they would visit us often. They provided us a great social group and hope they continue the friendship".

"He always loved reading books. He bought for so many books especially biographies including Obama, Margaret Thatcher, Clinton, and many more. He was very keen on biographies. We shared interests".

"Then came the building of the Mapeera house, the Head Offices of Centenary Bank. He was so proud of that building. He was the Executive Director at the time, and he was in charge of the Mapeera house project. He would eat, sleep, and think about the Mapeera house project. I would say, everything about it, he was behind. He worked with the Catholic Bishops and mobilized all shareholders to move in one direction".

"I recall the day of the inauguration of the building, he even sang at the inauguration function. Oh, he was very happy".

"The home where we live was a great accomplishment. He built this house around 1999. It was his first home so, we hold it dear". "And then the farm in Kiwawu, along Mityana road. The refurbishing of the family house and the plantation, as well as the refurbishment of the Catholic Church where he was baptized. He got support from friends, and he was happy with it. Only something small remained incomplete on the church, and the children are going to complete it".

"The many times we socialized with family and friends, he would be a very good host. He would sing, dance, and make everybody enjoy themselves. And you could see the positive energy at home. And I love hosting friends and making them happy".

"There was such a party we called a 'no reason party' where we would call all friends and family and entertain them, dance and be happy. We would invite our relatives. And he would invite his friends like the Kasekendes, Mubirus, Kamulegeyas, and many other people.

You would find us hosting about 30 to 40 people at home. And then my relatives, including my uncle Professor Kagonyera's family. At one such party, Mr. Mutebile was there. It was always great to have such parties. You know my husband once worked at URA, at the time Mutebile was a PSST – Permanent Secretary and Secretary to the Treasury, so they worked together".

"He was generous. He helped very many people with his funds. When there was an opportunity to help people get into positions, he would not only help them but encourage them. You would find young people talking to him. He was very interested in young people who were inquisitive and wanted to know more. He was an interesting man. He read a lot. You would not ask him and catch him off guard. He always had informed answers. He was generous giving out gifts to family and friends. Many people benefited from his generosity".

"And he was a person who was very happy when the people he helped thrived. For example, Francis Kamulegaya was about 12 years younger than him. He would tell me how proud he was about his career progress".

"He had a lot of knowledge and information. He would fit in well, in any conversation with informed people. And once he was convinced about something, he would defend his position to the end, if he had the basics and facts to support his stand. He was a man of facts. He would first consult, get ideas, and then make an informed decision".

"He was responsive to change. We started working without computers. But around 1994 or 1995, he enrolled in computer classes! He took it as a project. And that quality of embracing change made him achieve. He always advised us that the future is for those who embrace the change it brings".

"In his roles as a board member of many companies, he traveled a lot. Dr. Kagugube lived his life to the full. He always enjoyed life to the fullest. No regrets. And was always positive with new things".

"Simon's rington was Frank Sinatra's number, "I dit it my way", me think indeed Simon lived life his own way. He enjoyed that and liked it his way."

"I will always treasure my experience and love for him. There is a lot of good to learn from him. And I hope my children have picked those great qualities. He was a Catholic and a very religious man. May his soul rest in eternal peace".
Simon, the music lover
Dr. Kagugube had men too in his life. One of them is Andrew Seguya, his junior brother, with whom he grew up. Here are a few of the memories.
"My brother loved music. He loved dancing. He enjoyed life, thanks to his extrovert personality and a gift of friendship. He used to say, '… work hard, and play hard'. His interest in music started way back at St. Mary's Kisubi in the then school band, Sky Larks – a rich school band which boasted of talented members like David Kassami, Charles Rukuba, David Tamale, Jamy Kawuma, and other friends. He enjoyed the band purely for leisure".

"Simon was third in a big family with two brothers and seven sisters now remaining. I come fifth after Simon. Because of the age gap, my late brother was a friend and mentor. Even at an early age, he would call me outside the house, saying '… come for boy talk, leave the girls alone'".

"Oh, Simon loved singing. He will be missed by Afrigo Band and other nightspots like Magic Parking. Every Friday, whenever a live band was playing, Simon would be there. He would easily pick the mic and join the band on stage. He was a social man. He loved his beer and dancing to a live band.

One time he went to Kinshasha in the DRC, and while there visited a place called Matonge – it is a long street, known as the entertainment capital of Kinshasha –full of happening places and night clubs which play live bands. After discovering the street, he had to extend his stay there.

He called me one evening and said, 'Can you imagine I am with the Madilu system live band now?' That was Simon. He enjoyed live band to the core – the only thing which would make him remove his tie and suit".

"He had a special skill of doing things which many other people didn't find easy. At St. Mary's Kisubi, right from Senior One, Simon offered French and continued with it up to A level, something which I found odd. He often reminded me, '…. easy things make me bored'."

And I think that is why he climbed the corporate ladder with ease. He was a very good Administrator. He would sit, listen, and then provide informed guidance. As a leader, you have so many people with several challenges coming to see you daily. To him, that was a great challenge and an opportunity to help.

Dr. Simon Kagugube the entertainer.

He listened to everyone without interruptions. I always went to him for guidance, every time I felt like banging on a wall. He is one of the few people I knew would listen first, before offering advice!"

"My late brother's full names are Simon Kagugube Muwanga Seguya. He was born on 7th January 1956 at Albert Cook Hospital Mengo and died on 15th February 2020, aged 64. He is survived by 10 children – three boys and seven girls. He loved them all and ensured they attended the best schools he could afford".

"We are from the Engabi Clan, with an ancestral home in Mawagga, Ssingo, 35 miles along Kampala-Mityana road, where the late was laid to rest, next to his parents, Joseph Seguya and Solome Katesigwa. In the same cemetery lies Simon's grandfather, Simeo Kagugube, whom he was named after.

Our late Dad, Mr. Joseph Seguya, was well known and better educated. In the early 1960s, he was appointed by the Kabaka as Chief of Bulemezi, present-day Luwero – a role which brought him closer to the Buganda Kingdom and the Kabaka".

"Our father, Joseph Seguya, returned from London to Uganda in late 1965. On his return, he was given the role of managing the Uganda Club, present-day Kampala Club. But in 1966 something happened – Obote I fell out with the Kabaka. And being a friend of the Kabaka, our Dad left Uganda club, which was at the time a government property with a lot of state influence. Our father decided to relocate to Jinja, to be far away from government operatives".

Dr. Simon Kagugube loved the microphone, at any opportunity.

At Centenary Bank, he met so many people.

He loved soccer. Though he never played it, he liked it. And in modern-day sports, he loved Manchester United. He was also a great chess player. He was very outgoing. And could listen, whether you talked nonsense for even two hours, he would give you time.

He would then give you his position. As a boardroom regular and Top Executive, Simon was ever conscious about his looks–always smart and up to date, never mismatching clothes and this defined his class. I will forever miss him."
His death
In the early hours of Saturday 1st February 2020, He felt discomfort and pain in the chest and he went to his usual clinic from where he was referred to Nakasero Hospital for further investigation and management. He was then sent to The Uganda Heart Institute. It was found that he had suffered a heart attack when the remaining functional artery had been blocked.
A stent was inserted to unblock the artery and a pacemaker was inserted. It was 14 days from the onset of the heart attack until Saturday 15th February 2020, when he passed on to glory.
Download a print version, The Book of Dr Simon Kagugube (184 downloads)