There is a new ISO training fraud that is not easy to detect

.

About the fraud scheme

A person approaches a local membership body and signs a memorandum of understanding (MOU) to provide official International Organization for Standardization (ISO) training services through the local membership body. Under the MOU, the local membership on one part provides marketing and mobilization services while the person alleging to be 'Authorized ISO Trainer' undertakes to provide official training of the ISO standards and thereafter issue 'official ISO certificates' to all participants. The promise is ONLY the end of training certificates issued by the "Authorized ISO Trainer" are valid.

One of the popular standards where this education fraud has been rampant is the ISO 31000:2018 Risk Management Guidelines.

How is money lost?

Under this fraud, the "Authorised Official Trainer" imposter signs an MOU where the local membership body or consulting firm or entity undertakes to pay a percentage of say 40% to 60% of ALL the net profits realized from the training to the "ISO Authorized Trainer". The "Authorised Trainer" makes misrepresentations that "they have official course content" and "no one else is allowed to provide the training in the specified region."

This means the local membership body must spend a lot of money on transport in terms of buying an official air ticket for the "official trainer", spending on accommodation and of course paying high fees to the "Official Trainer". Taken together, these high costs paid to the trainer is transferred to its membership which is already a 'captive' market as members are expected to support the training organized by the secretariat.

 How the fraud occurs

The person searches online for any training in ISO standard of their choice like ISO 31000:2018 risk management; ISO 27001:2013 and ISO 27002: 2013 for cybersecurity; and ISO 9001 to mention but three. So many organizations with skills make training materials and conduct training services to help interpret the standard and support organizations to implement it fully. Some standards are so technical, that mere buying a standards guideline handbook from the ISO website is not enough.

Once one gets a certificate from any trainer based in any country, they then use a copy of such certificate to visit different membership organizations misrepresenting themselves as "Authorised ISO Trainers" for the ISO standards in which they have got a certificate!

Many people have fallen victims of the scheme, and thereby spending a lot of money even when they would have otherwise used local experts who have a practical understanding of the standard!

The facts

All standards are developed and published by ISO, https://www.iso.org/home.html, which makes them available for purchase via their official website. The ISO.org, does not have any official accreditation system.

I sent an email to ISO.org using official contacts indicated on its website. Figure 1 is the email I sent:
Figure 1: Email to ISO.org
I received the following feedback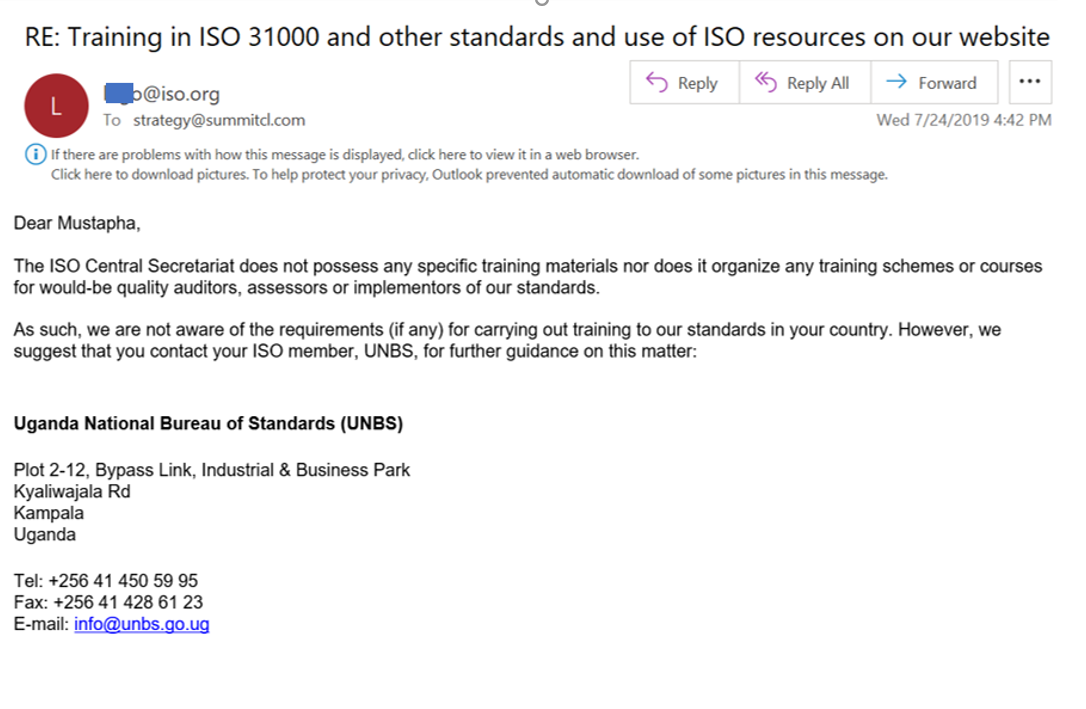 Figure 2: Response from ISO.org
As you can see in figure 2, ISO does not have any list of authorized trainers for any standard nor does it provide accredited trainers or training of trainers. Anyone who holds such a certificate and purports to be an official ISO trainer is a fraudster and should be dismissed with contempt.
In Uganda, the custodian of any standardization and enforcement is Uganda National Bureau of Standards (UNBS). UNBS is the officially recognized ISO.org member. This is only entity that has the mandate to accredit trainers, if their mandate allows them to do so, in respect to the implementation of the specific standards that UNBS is concerned about like Organisational health and safety, quality management, to mention but two.
There is NO authorized official trainer for any ISO.org course. Anyone who understands the standard can buy original standard materials from www.iso.org and can train and implement the standard. However, only UNBS in Uganda, has the mandate to audit the standard and issue a quality market! UNBS can however accredit competent professionals to provide such a service.
In summary:
ISO does not accredit any trainers. So, there is no such thing as "Authorized ISO Trainer". Anyone with skills and official ISO content, can conduct training and provide implementation support in any company in Uganda. So, there is no such a thing as "Official ISO 31000:2018 Trainer" or such nonsense! Be careful with who you enter into partnership with.
There are no "official ISO end of training certificates issued". If anyone issues you with a certificate, it is not an official ISO certificate
ISO.org works with national standards bodies in respective countries. In Uganda, we have Uganda National Bureau of Standards (UNBS). This is the official body that is a member of ISO.org. If in doubt, visit UNBS for guidance, as you can see from the email above.
Are you a training institution or a membership body, do not fall victim to this fraud. Anyone can obtain a certificate from any Institute globally. There are so many degree, certificate and diploma mills. All you ask is a paper and it will be issued.
To confirm the genuineness of the certificate, go to the official website and verify. If you don't find any list of accredited members, just know the certificate was issued by one of those so many paper mills. And it is fake.
Copyright Mustapha B Mugisa, 2019. All rights reserved.