He is currently a farmer and consultant. A seasoned Auditor who trained in the United Kingdom. A former Director of Internal Audit at Uganda National Roads Authority, Peter Kirimunda has been there and seen it all.
He met with Mustapha B. Mugisa at his office about his life's lessons. In brief:
Life skills are best learnt when people are still young. For example, I learnt agriculture, the discipline of hard work and earning from your sweat.
The level or place you are does not matter, it is your determination and passion that will take you where you want to be. I came from a humble background; I fell out of school several times. I was determined to make it and I did, at based on my background and circumstances.
Trustworthiness and reliability will always open the doors wherever you go. Determination can take you there, but reliability and trust will always keep the doors open. When I was in secondary school, I established reliability with my Uncle, and he helped me out. In the UK, I proved to be trustworthy with my friends and when the need arose, they allowed me to live in their home.
In whatever you do, put in your time, effort skill and passion. You will always succeed. Once you love what you are doing, money follows.
Enjoy the following story of perseverance, determination and sheer willpower to succeed.
Tell us about your journey. How and where did you start and where are you now? How did you get here?
I am a person from a very humble background. I come from the remotest place in Uganda called Ibuje village, Maruzi County, Lango District present-day Apac District.
At the age of six, I was forced into primary school education. I was contented at home because that was the norm for many children around the village. The saving grace came through Mom, illiterate as she was, valued education. And the primary one teacher was my Aunt.  
At the time, the dropout rate was so high. By Primary seven, about 40% of children I had started primary one, had fallen out of school.
I loved entrepreneurship at an early age. Young as I was, I had my own gardens of cotton, maize and sugarcane to earn money. By the time I reached primary seven, I was earning through selling my produce. I was also making papyrus mats and baskets. This early age entrepreneurship helped keep my interest in school. Also, the teachers gave me the father figure in my life, whom I missed at home. During that time, teachers took parental roles seriously unlike today where they concentrate on academics.
I went to Moroto High School. When I finished senior four, Mom could not afford to pay for Advanced level school fees. I fell out of school. I got a job as a Clerical Officer in the District Commissioners Office for a period of two years. I was lucky that there was a family friend who could host me during the time I was working as a Clerical Officer, so I was able to save my small salary for school fees.
After two years, I went to Kibuli Secondary School for Advanced Level. I passed and proceed to the College of Commerce. After graduation, I got a partner who entrusted me with capital to do trading of groceries imported from Kenya to Kikuubo. After trading for one year, I got a job as an Audit Assistant in the then Uganda Electricity Board (UEB).
After working for one year, in 1992, I was given a British Council Scholarship to study in the United Kingdom. I went to the University of Hull, University of Birmingham and Herriot Watt University in the UK. The course I was sponsored for had been designed by the three Universities for Oversees Students where each University hosted a module. This gave me great exposure.
Thereafter, I was attached to Scottish Power for practical experience. While I was in the UK, I decided to study for a University Degree. I applied for Universities in the UK and got admission from Herriot Watt University and Glasgow University. However, I could not get a sponsor. I lost the opportunity.
After working for six months, I returned to UEB, where I got a salary rise in acknowledgement of my newly acquired training.
In 1993, Makerere University started evening class programs. I registered for a Bachelor of Business Administration, Faculty of Commerce which I paid out of my salary. Upon completion of the degree, I was again promoted to the position of Internal Auditor.
In 1998, I got a new job at the National Agricultural Research Organisation (NARO) as an Internal Auditor supervising audit assistant. Although it was a higher position with a better salary, it was still not adequate to pay the bills. Around this time, I applied for an MBA at Makerere University Business School (MUBS). I attended until the end of the term. However, during the examination, only paid students could sit exams. Since my salary could not afford it, I fell out of the program and put the program aside.
After two years, I got a job with Action Aid International Uganda as Senior Internal Auditor, Head of Audit. My salary more than doubled.
I decided to live on my previous salary equivalent and saved the rest for my master's studies.
Based on my work schedules, it was difficult to do an evening class Masters. So, I chose to save money and study abroad. After four years, I went to the United Kingdom for my master's at the University of Strathclyde, Glasgow. When I got there, I discovered that the money I had was not enough. As luck could have it, I had established a good relationship in 1992 with a family in Glasgow. And during the time of working at Action Aid, I would occasionally visit the family who occasionally sent me to bring items and money home since the lady was a Uganda. This family hosted me in their home. And still, my money was not enough. This family contributed towards my school fees in addition to my small earnings from odd jobs. Imagine waking up at 5 am, reach work at 6 am, work up to 9 am and then go to class. Then the class ends at 4 pm. You go back and start from 5 pm to 8 pm. That was the daily routine!
After the course, I started volunteering for the British Red Cross in Paisley. Around 2006, I got a job with Shell's Service Centre in Glasgow. I then enrolled for Certified Internal Auditor (CIA) qualification. Towards the end of 2007, I resigned the job and returned to Uganda. Luckily, in 2008 I got a job at Uganda National Roads Authority (UNRA). By the time I applied to UNRA, I had not yet completed. However, by the time of the interviews, my certificate had arrived as CIA. I worked until 2015 when I left to pursue interests in farming and consultancy.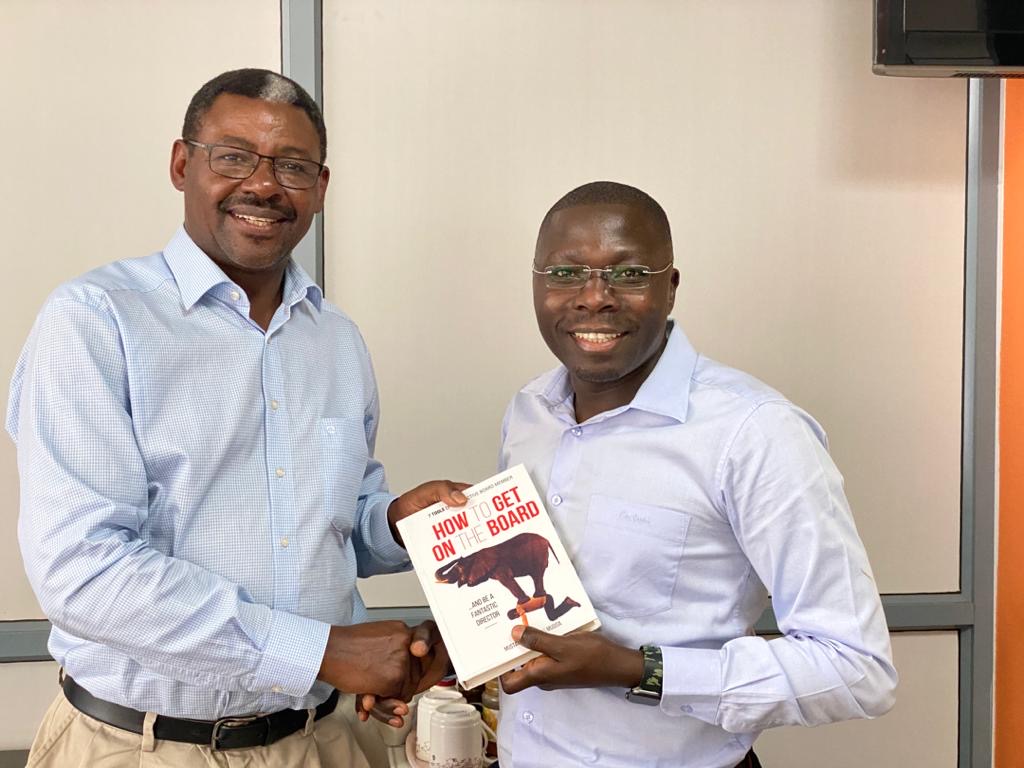 In your profession, how much of your success is attributed to good parenting vs luck?
In my profession, good parenting and upbringing is more than 75% towards your success. It creates into you the sense of values – right morals and behaviour – you need to succeed. You may be lucky, but if you don't have the values and no one can trust you, luck will pass by and go to another person.
In our country, we have so many people but who luck values and morals. In Uganda, the biggest challenge we have is that of morals, values and ethics. Without values, people steal, kill and spoil things. That is why you hear a wife killing a husband while he is asleep! Can you imagine? Or a man killing a wife deep in her sleep.
It is dangerous to have highly skilled people without morals. And it is worse when such people are in top leadership positions.
What top two skills would you say one must master to succeed and why?
A skill is something one earns from. All skills are critical. What you need is to identify your passion. Gain the skills to support it. And be a determined and reliable professional. Success will come.
As a leader, how do you identify and prepare a successor?
The first thing is to identify reliable and loyal people. Then the ones who are determined to grow. And then build their capacity by delegating to them, training them, giving them roles to win.
Once you see they are ready, handover the reins of power.
If you are to share one life's lesson: what would it be? Why?
"What people present themselves as, is normally, not what they are." And my biggest weakness is the inability to read and quickly understand that people are not reliable and sincere.
Several times when you talk with people, they are good at presenting themselves verbally. In practice, they turn out to be unreliable. Undetermined. And crooked people leading you into so many big problems.
Be careful with whom to trust.
What is your biggest fear and why?
My biggest fear is "square pegs, in round holes." I mean, getting wrong people in the right places.