Team Uganda returns from the Rio2016 Olympics empty handed. It is unlikely that there will be a crowd, as usually is the norm, when a medal has been won, waiting for them at the Entebbe International Airport for our gallant sports men and women, who ably represented the country.
Showing up is one thing. Winning a medal is a different ball game. The investment and effort required to get a medal is advanced.
Below is an extract of the medal table. Burundi, a country that has been besieged by political uncertainties and rebel insurgencies, managed to win a medal and places 69th in the League of Nations who participated. This is a tremendous achievement.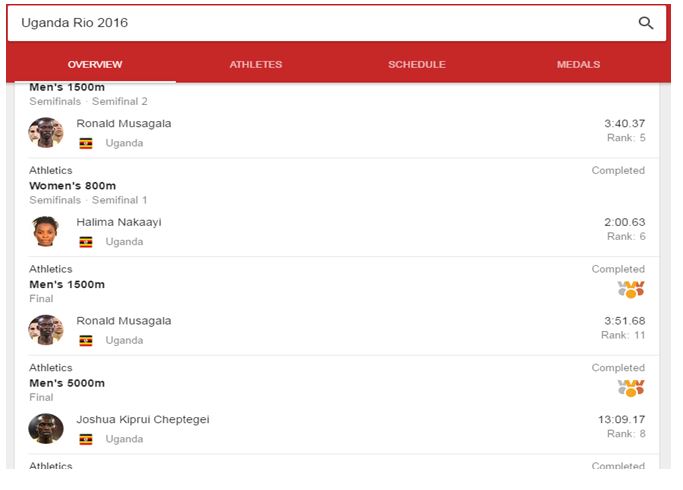 Before you write-off team Uganda, look at the positions they managed to get. Ronald Musagala ranked 11th in the World in the men's 1,500 meters while Joshua ranked 8th overall. That is no small achievement.
Winning medals
Britain managed to emerge 2nd overall as a country with most medals. Many of these medals came from indoor games which require quality infrastructure.
Britain hosted the Olympics in 2012, and their sportsmen and women had all the world class facilities they need to practice. So are the other countries that got most medals.
For every Gold medal won, there are many years of training and practice that went into the training. You need at least 10 to six years of intense daily practice. You need to master the mind-game, as the physical one.
Many countries look after their athletes by paying them salaries so that they only study and practice. Their life is about the routine of practicing for the Olympics. And now Team Japan for the Tokyo2020 Olympics has already gone far in preparations. The Japanese pay too much attention to detail and I am sure they are waiting for 2020 to show the world what they are made of.
Uganda, and other countries that did not win a medal are not inferior people. They are just not supported to excel. Surely, to win a medal you need a trainer that has ever won a medal. You need a supporting environment and the motivation to do it.
When one wins a medal, the government is the first to tax the person. Considering the fact that government rarely provides the support needed to our sports people, they feel let down. And rightly so.
Now is the time to start preparing for Tokyo2020. The plan should already have been done. We need to traverse the country by identifying the best from each district and folks with potential to be winners. Thereafter, give them the training they need and support their families with monthly salaries so that they are not worried.
That is called planning. Otherwise, team Uganda achieved so much for this country at the just concluded Olympics considering the circumstances they trained.
For God and my Country.